Nasta Labada & Buben – Again Ep [Deepsessions Abstract]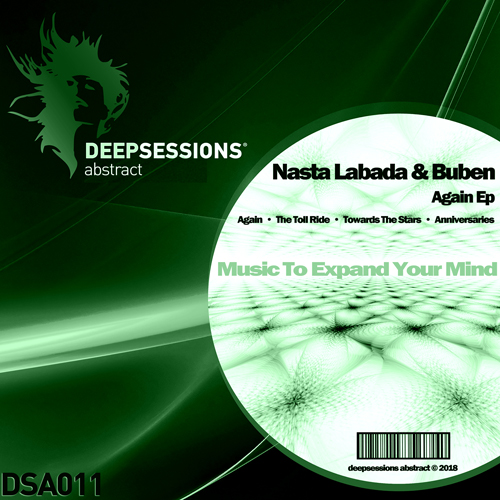 Anastasiya (Nasta) Labada, MINSK, BELARUS is an electronic musician with a background in piano and violin production.
Available Now @ #beatport • #juno • #iTunes
Nasta has played as a DJ for the electronic music and poetry project Dances with Buben.She is also known as a formed director of Centre for International Studies in Minsk with broad activity in international cultural events.Besides,Ms Labada is a renowned literary translator honored by the 2011 Bahdanovich Literary Debut Award, not to mention the membership in PEN and Belarusian Writers' Union.Nasta is known also in collaboration with Buben in music projects with focus on gender equality,democracy and human rights.The perfect combination of several means of expression – primarily music and literature – makes this artist stand out among others.
Buben
VLADISLAV BUBEN is the founder of a number of genres in electronic music in Belarus and the cultic musician who influenced several generations on the Belarusian electronic stage. Vladislav created several radio projects and a TV show for Belarusian MTV about alternative electronic music ("Did you call for electricians?", 2007-2008). Now he is the main coordinator for the festivals Unsound-Belarus and InTouch as well as concerts and events producer.Buben creates musical projects in different styles (techno, house, break beat, break core, ambient, experimental and industrial). Vladislav recorded collaborative projects with a number of alternative artists from Germany, the U.K, Sweden, Norway, Spain, Lithuania etc. Buben's music has been released on 61 labels around the world. Now he has created his own studio – Big Buben Studio – dedicated to release Buben's pieces.Buben is currently subscribed to the following house music labels: Big Mamas House Records, Platform 7, Afrosoup, Deeplomatic Recordings, LaDemenza Music as well as Proton Radio label group (Klinic Lounge, Maniana Records, Evoked Records, Selivan Music).Vladislav performed in Germany, Holland, Sweden, Belgium,Latvia, Poland, Lithuaina, Moldova, Russia, Hungary and Austria.
#dsa011 #nastalabada #buben #downtempo #deepsessions_abstract #2018
12 April 2018 Athan Uncategorized Deepsessions Abstract, Downtempo, Releases